news - aim - releases - reviews - plans - links - distributors - ordering - contact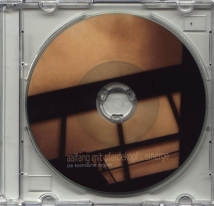 alm 30
aalfang mit pferdekopf . emerge
"die kosmische zygote"
16 january 2006
this track combines the original sound sculpture recorded by mirko uhlig
with a spring drum, a kalimba and a melodica in september 2004
with a rework of that recording contributed by sascha stadlmeier.
final mix by mirko uhlig, september - november 2004
artwork : cyril herry
Aalfang Mit Pferdekopf and Emerge are two musicians from Germany, with some previous works on various lables (Drone Records or Verato Project for Emerge, our belgian cousin of Mystery Sea for A.M.P.).
This quite surrealistic & surprising piece was created in three steps : first, Aalfang Mit Pferdekopf has created what he calls himself "a sound sculture" with various intruments like melodica, kalimba or spring drum. Then Emerge reworked it, adding his dark-ambient sounds and low rumblings he's known for. The final mix was done by Aalfang Mit Pferdekopf.
Expect a mix of dark-ambient and pure experimental musics!
tracklisting :
1. die kosmische zygote