news - aim - releases - reviews - plans - links - distributors - ordering - contact
new design (december 2005)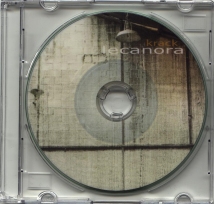 original design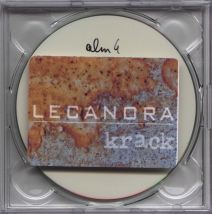 alm 4
Lecanora
"krack"
25 march 2002
recorded and mixed at white studio.
saxo : olivier duperron
original artwork : cyril herry
new artwork (december 2005) : cyril herry
Lecanora is the brand-new sound-project of Cyril Herry. His past activities include Exotoendo (remember their CDs released by Athanor and Old Europa Café) and Sechres Mound (collaboration with Cédric -Toy Bizarre- Peyronnet). More Lecanora releases should be out very soon thanks to Tantric Harmonies.
Ritual-ambient at its best !
"Most of the used sounds are samples of all kinds : samples, electronic sequences, field recordings, various instruments... which, most of the time, are improved, arranged, transformed, abused. Each part consists of the creation of a space-time in which I let the samples evolve/move in loop as would do it alive beings or things. The sounds enter in scene in turn, meet, overlap themselves, run up, they become matters, bodies with a clean force of character and are confronted with other bodies in a same space time. Then various reactions, various phenomena follow, which will give part a particular aspect to the sound. Certain sounds will harmonize and make body without sorrow, while others, according to their characteristics -the duration of the sample, dynamics, the sound grain-, will act on the others in one way or another, involving regrettable collisions, confusions, more or less foreseeable interactions, happy or very unfortunate sound circumstances which can take the form of pure and simple smothering of a sound by another, or of a radical modification of its texture.
The compositions include a very restricted number of sounds : between three and five to the great maximum. I hold with this sobriety, with this minimal range, which allows a better legibility of the sound layout and authorizes a faithful observation of the evolution and transformat ion of the cycles in the duration. The emptiness and silence, even if they are not inevitably "audible", occupy a significant place in my work. The emptiness supplements the full one and silence punctuates the noise. I work with an unceasingly fed sound ba nk in which I select the samples in order to experiment them with others, to see how this one can react in the presence of such other. For this reason certain sounds are found in several pieces, and that titles return, distinguished only by numbers or let ters. There are even sounds which bear a name and which determine the heading of the parts in which I used them."
Extracts from a Lecanora interview (november 2001) taken from L'Oreille Electronique website (http://www.oreille-electronique.org).
tracklisting
1. krack:ca (4.51)
2. oxy (6.15)
3. coma white (6.30)

no FLAC version yet, sorry!