news - aim - releases - reviews - plans - links - distributors - ordering - contact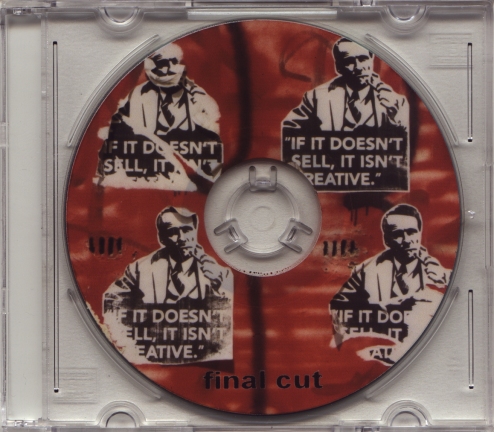 alm 73
final cut
"ballade de bruits"
30 march 2011
photography : delphine ancelle-b.
recorded, composed and mixed in anonymous places of belgium during january 2010. sound is all.
thanks to everyone at taâlem.
frenchman based in belgium, final cut has used as base for these tracks environmental sounds he has done during his several wanderings. once at home, they've been heavily processed to form hypnotizing soundscapes.
final cut is also the co-curator of the 3patttes label and earsheltering netlabel.
tracklisting :
1. ballade de bruits
2. radiothérapie


reviews :
Vital Weekly
[...] Behind Final Cut is a frenchman (no name) who lives in Belgium, where he runs the 3pattes label, as well as the earsheltering netlabel. Two pieces here, which we may see as noise ballads, I guess, looking at the title. Of the three recent Taalem releases, this is the one that is most noise based. Not entirely loud or something like that, but nevertheless a bit less subtle in the processing of field recordings. Final Cut transforms them into drone like music, which sound a bit like stringed instruments, ringing around in overtones. Quite gritty and angular, but quite nice also. Very upright and present. (FdW)
Textura
A new trio of three-inch CD-Rs from the taâlem imprint includes field recordings-based soundscaping from d'incise and Final Cut and a collection of abstract vignettes from Bad Sector (Massimo Magrini). [...]
Final Cut, a French producer based in Belgium (and also co-curator of the 3patttes label and earsheltering net-label), used field recordings of environmental sounds collected in Belgium during January 2010 to create the two heavily processed soundscapes heard on Ballade de bruits. The title piece amounts to a rather spectral twelve minutes of crepuscular shimmer when glassy sound fields reverberate through cavernous spaces, their high-pitched peals occasionally smothered by billowing masses that swell in volume. Repeatedly attacked by dive-bombing embellishments, shuddering figures, and controlled howl, the rough-edged drone exhalations in "Radiothérapie" sound more like the product of an effects-laden electric guitar than field recordings, though it may simply be that Final Cut has modified the originating materials so drastically they sound like molten, guitar-generated slabs. Regardless, the smoldering piece makes for a stark but not unwelcome counterpoint to the title piece.
Culture Is Not Your Friend
Belgium based Final Cut offers two piercing drones on this 3? mini album, ranking as one of Taalem's many fine releases. "Ballade de Bruits" and "Radiotherapie" were created from various field recordings, which were then taken to the lab at home and reassembled as the intense, unyielding, hypnotizing drones that are bombarding my room right now. Final Cut's consistent hammering of bleak overtones and juggernaut feedbacks is driving all logic and reason away from the room, filling the space with meditative resonance that almost feels solid enough to make it hard to breath. "Sound is all", so the artist wrote. For now it most defiantly is.
The two tracks do have differences between them, and only together can they complete a full circle within this intense aural trip. Ballade de Bruits opens with a more stormy vibration, forming a hostile environment that only grows more and more in density and presence. The infinitely feedbacked sounds create a mind piercing, yet somehow delicate and intimate singing sensation, as if the conclusion of such heavy weight of sound that Final Cut is putting on my shoulder is lyrical and almost angelic.
After this demanding experience, "Radiotherapie" offers itself to me as a soothing treatment for the heavy emotional trauma caused by the first part of the album. "Radiotherapie" is as intense as its predecessor, yet more forgiving, fading away together with the intense experience that was created by these two tracks. When it finally dies, I am shaken out of this stirring experience and can barely remember details from it. Another play of this album is in order, so I can trace back my feelings and thoughts. Before I do that I take notice of how my house is silent now, empty without the deep sounds that dominated it just few seconds ago. It's easier to breathe now, and I take a deep breath, pressing play again and feeling the soundwaves pressing against my skin once more. Another excellent release from Taalem!