news - aim - releases - reviews - plans - links - distributors - ordering - contact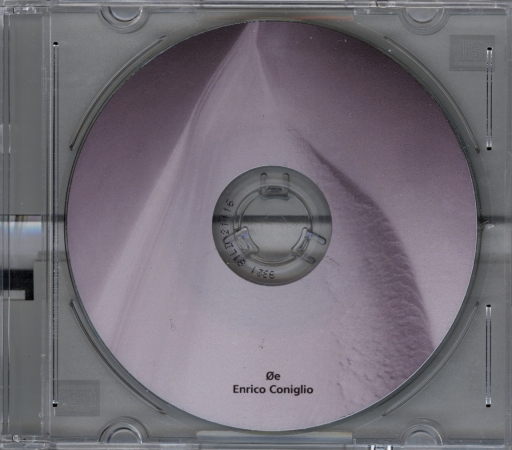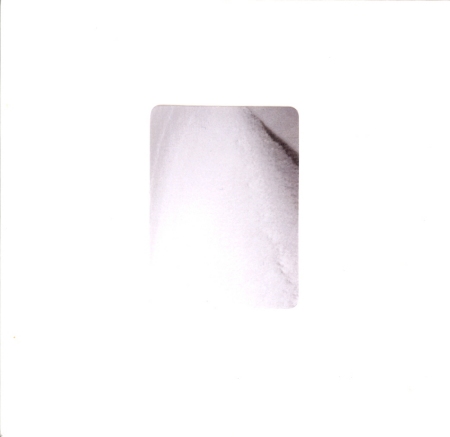 alm 94
øe + enrico coniglio
"inner frost"
4 december 2013
enrico coniglio: guitar, field recordings, sampler, laptop
fabio perletta: loops, acoustic guitar, laptop
all music by enrico coniglio & fabio perletta
mastered by julien cornu-kuoch
photography: fabio perletta
"inner frost" is the first collaboration between enrico coniglio and øe aka fabio perletta, two respected italian musicians.
guitarist, environmental sound recordist and sound artist, enrico coniglio already has a solid body of physical works, alone or in collaboration with oophoi (aqua dorsa) or giovanni lami (lemures) on silentes, psychonavigation records, glacial movement, hypnos and netreleases on cronica or touch. he's also the co-curator of the great galaverna netlabel.
fabio perletta is a sound and multimedia artist. his works include electronic music, sound and light installations, live performances and graphic design. over the years he has collaborated with many international artists such as richard chartier, yann novak, lawrence english, simon whetham fabio orsi and many others. he also runs the farmacia901 label.
for this two-track release, enrico and fabio wanted to create pure glacial ambient. the release was ready last spring but we all decided to postpone it to a more appropriate release date. we're now in december, you can now have the pleasure to enjoy "inner frost"...
tracklisting :
1. sastrugi / at the gates of
2. a white place


(also available as a limited edition 3-panel digipak)

reviews:
Vital Weekly 912
As per usual, new releases by Taalem are on 3" CDR and are released in groups of three. [...]
Of Enrico Coniglio I heard before, through his releases on Silentes, Psychonavigation, Glacial Movement and his collaboration with people like Oophoi and Giovanni Iami. Here he works with Fabio Perletta, known from his own Farmacia901 label, and his work with Richard Chartier, Yann Novak, Lawrence English, Simon Whetham and Fabio Orsi. Together they use guitar, field recordings, sampler, laptop, loops and acoustic guitar. These two men connect more to the music of Tone Color, or perhaps with the whole genre of ambient music in general, or perhaps better: the kind of ambient music Vital Weekly deals with a lot. Dark, sustaining, working with overtones generated from a simple and single sound source and then slowly expanding into this whole universe of sounds, but never really tacky, in a new age sense. In 'A White Place' a nasty high end sort of sine wave peeps around the corner which makes this most certainly stranger than any new age record would ever do. On this grey and sombre December morning, this is the best kind of music one can hope for. A bit desolate, a bit grey, but also nicely warm enough, and, to be honest also, not the kind of thing I haven't heard before. But who cares about that? (FdW)
A Closer Listen
Taâlem's latest batch of CD3"s arrived at the end of the year, but all are suitable for winter. Tone Color's entry is cool and sleepy like a long hibernation; Øe (Fabio Perletta) and Enrico Coniglio's is cold and dry like Antarctic wind; and Babylone Chaos' is as disturbing as a stir crazy Jack Torrance. They are available together or apart; the first editions are in digipacks, later editions in jewel cases.[...]
By title and tone, Øe and Enrico Coniglio's Inner Frost is intended to be a winter recording; little imagination is needed to feel the frost in these currents. The chords accumulate like snow drifts, intimating a deep winter, dangerous enough to chill the marrow. The higher pitches resonate like pinging icicles or tinnitus. As the frost sets in, it penetrates the psyche; this inner frost is a cold heart, a suspicious mind, an unmotivated body. Like a mountain climber suffering from hypoxia, it offers strange aural delusions: a growl toward the beginning of "A White Place" may be that of a polar wind advancing through the wind. And yet, the music itself never falls into torpor. Swirling, drifting, falling or rising, it continues in motion, a blizzard that stills everything in its path without itself becoming still.[...] (Richard Allen)
interview:
Fluid Radio
Inner Frost is your first collaborative work, could you tell me how this project came about?
Enrico Coniglio: The first time I heard of Fabio was through his work under his Øe moniker. What I found immediately appealing was his love for the "Big North". That was the spark, the big, imaginary and imaginative, north, even if in this particular case, the cold and icy atmosphere is an "internal" element and not just a climatic factor.
Fabio Perletta: I remember getting to know Enrico back when MySpace was active. We started emailing each other, which eventually led to this collaboration. Our love for the mountains, for the cold and for the massive expanse of snowy landscapes of the North were the elements that contributed to the making of Inner Frost. As Enrico has correctly indicated, the idea at the basis of this work is that the cold is both a psychological and a mental state. I recall long walks through the deep white mountainous landscapes of the Trentino Alto Adige region in the north of Italy, where I first came in touch with the purity of whiteness as a moment of silence. It is our chance to reconcile ourselves with the intelligence of life, an all too rare privilege.
You are both quite active on the Italian experimental and electro-acoustic music scene and you both run labels, Farmacia901, in the case of Fabio and the netlabel Galaverna in the case of Enrico. Inner Frost, though, is the perfect album for Taalem but it could've also suited very well Alessandro Tedeschi's Glacial Movements, with its marked ambient isolationist feel. Did you deliberately set out to make a "genre" album with Inner Frost?
EC: Inner Frost is a mini album. Its sound is perfectly in line to Taalem's first season, and I am thinking of the albums by Netherworld, Oophoi, Marutti, Nimh, and Aidan Baker, amongst others. The idea, on my part, was to produce something within a "glacial ambient" framework and style, without having to necessarily say anything new, just to plunge in a fun way in the post-isolationist stream, which has been revived in recent years by our friend and colleague Alessandro Tedeschi, of the Italian label Glacial Movements. When Taalem's label head, Jean-Marc Boucher, asked me if I had anything new to release, together with Fabio, we suggested Inner Frost, which he was immediately enthusiastic about.
FP: To be honest, this is a rather instinctive album for me, compared to my previous ones, which are more experimental and conceptual. Øe is a project closely linked to the cold, the solitude of icy landscapes, the cycles of nature, the light, the white and the colours. I was surprised by the recent discovery of a colony of bacteria in a subglacial lake in the Antarctic. I am extremely fascinated by the idea that life can develop even under extreme conditions. It's the force of life, in which I strongly believe.
The album is composed of two tracks, "Sastrugi/At the Gates of" and "A White Place", and yet this is not a split album. How did you go about collaborating on the tracks? Did you at any point meet up or was it a question of exchanging files over the net just like so many collaborations nowadays?
EC: This is a collaborative album, a few ideas came from me, while others, were originated by Fabio, and that goes for the titles as well. We exchanged files over the net – as it is customary – assembling and mixing the tracks, always discussing the process and making the necessary adjustments.
FP: We didn't physically meet, we just exchanged files.
You both live close to the sea, in your case, Enrico, you literally live in a city built on water, and water is a recurrent feature in your music. The album opens with Sastrugi / At the Gates of, which begins with what sounds like a loop of rolling waves. Could you tell me something about the nature of the organic sounds you used and the way you processed them, assuming you have indeed used organic sounds?
EC: The beginning of Sastrugi is based on recordings of the wind, which I took in a high altitude hut on the Alps, and which I subsequently processed. On top of this come Fabio's soft drones and everything is mixed, with distortions, reverb and distant bell ringing.
FP: No field recordings on my part. Only synthetic loops processed in real time with a MaxMSP patch I have called "Visioni Interiori" (Inner Visions), as a homage to an exhibition by the great American artist Bill Viola, which took place between October 2008 and January 2009 at the Palazzo delle Esposizioni, in Rome. This turned out to be one of the greatest and more intense experiences of my life, which I still remember vividly after many years. I always try to replicate those same feeling in my loops, as a personal and internal dialogue, which has nonetheless a universal scope.
The album closes with the short looped drones of A White Place, pierced by the plucked strings of a guitar. The overall feel is one of a stripped down track, as if you started off with a wall of sound, which you have gradually peeled away at. Could you give me an idea of your set up in terms of instrumentation and programs you used?
EC: One has to approach the "Big North", whether imaginary or real as that may be, slowly. With that initial sound I wanted to convey a basic, essential feel, which is then transformed through the clarity of the snow into something playful and full of light. My set up consists of an electric guitar processed through an Eventide effect, field recordings, sampler and laptop.
Is Inner Frost a one off or will there be a second chapter soon to follow?
EC: I don't really know. This is an album that openly plays around with certain clichés of a very specific musical genre, which I nonetheless continue to listen to and have a lot of time and respect for. Still, I believe we both probably would like to move in a different direction?
FP: I don't believe so. It's far removed from the kind of material I am currently concentrating on. Still, it was a great pleasure to create an album such as this together with Enrico.
What are you both currently working on?
EC: 2013 has been a very productive year for me with the release of two important projects I had been working on with great dedication and passion, the first one as My Home, Sinking (with an album out on Fluid Audio) and the second one under the Lemures moniker, a collaborative project with Giovanni Lami, with a 12" vinyl out on Cronica. I have also a further album, characterized by a glacial feel, coming out on the GTerma label together with Gianluigi Gasparetti, aka Oöphoi, who sadly passed away last year, under the moniker Aqua Dorsa. R.I.P. Gigi…
FP: Back in December 2012, I started collaborating with a good friend of mine, the excellent musician Emiliano Romanelli (formerly of TU M'), to whom I owe a lot.
Also, later in the month, I'll be releasing a new full-length album, "Interstitial Spaces", which explores the infinitesimally small and the vibrations related to it.
Furthermore, in February, I will be launching a new multimedia project, "Quark: How Does The Invisible Sound?" developed together with Ennio Mazzon, which will see monthly releases by a number of sound artists. For more information please visit the Farmacia901 website.